"Fun…with a focus" that's our motto.  If you just want a fun activity without the team building component we can find just the right program for you.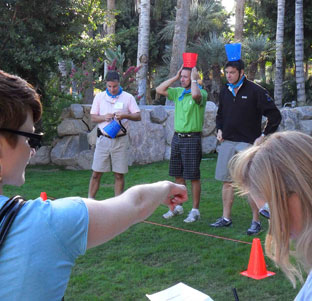 60 Seconds to Succeed
The clock is ticking!  Modeled after the popular game show "Minute to Win It," 60 Seconds to Succeed will have teams racing against the clock to see who can earn the most points in our wacky challenges.  Your group is bound to be laughing out loud at some of the crazy antics we have in store.
Each of our fast and fun team challenges is appropriate for groups of all ages and abilities.  Get ready to let loose and have some fun!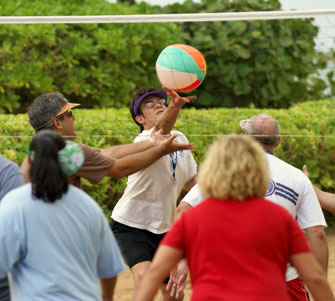 A Day at the Beach
Get ready to have some fun in the sun with A Day at the Beach!  This event is designed to bring out the team spirit in everyone.  The games will begin with a Tiki Torch Lighting Ceremony and warm up exercises.  Teams will then compete in a quick, fun and upbeat program designed to get everyone involved.
Imagine teams competing in hula-hoops or racing in flippers in a wacky beach relay.  Our goal is to pump up the spirit of your group with a fun, high-energy event designed for all ages and abilities.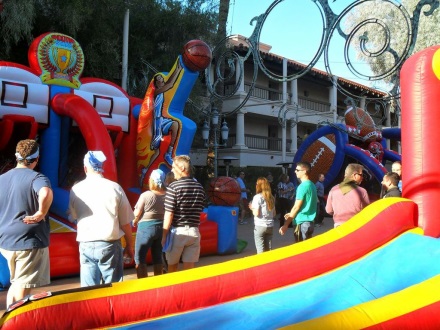 All Star Sports
This fast and fun team challenge is great for all ages and abilities.  Team up for All Star Sports!  Enjoy our interactive games modeled after major sporting events. The majority of these games are inflatable and are great for outdoors and indoors (space permitting).
Find out who can sink the most free throws, who can pass like a pro, and who you can count on to score the winning goal.  All Star Sports will energize your group with fun and fast competition for all ages and abilities. Our music will rock your teams as they rotate through the games on command from the Head Official. Set time limits will challenge your teams to score as many points as possible before the clock runs out.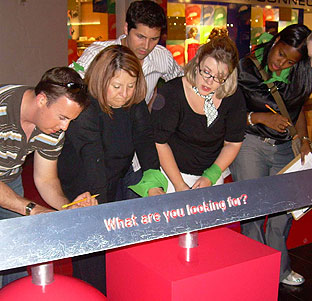 Amazing Race
The race is on as teams compete against each other to finish the Amazing Race! This is a fun teambuilding event combining communication skills, planning, strategy, teamwork and a race against the clock. Each team challenge has been developed to improve a team's problem solving, planning, leadership, communication and negotiation and teamwork skills, further building the team spirit.
Who will cross the finish line first in the Amazing Race? Around the World
A unique, interactive challenge which allows you to travel the world without ever leaving the indoor location of your choice.
A perfect indoor team building activity which allows you to work your way around the globe from your chosen location. Armed with our interactive app as your passport and guide, it's down to you and your globe-trotting teammates to virtually visit a number of countries and activate the 'hot spots' in order to complete a range of local, national and international challenges to earn points.
Chopped Challenge
A basket containing who knows what put teams' creativity to the test. Contestants have 45 minutes to turn ingredients found in the mystery basket into one edible dish. Judges rank team dishes on how well the ingredients were incorporated, creativity, taste and presentation.
The winning team gets a culinary-inspired grand prize and the rest get Chopped!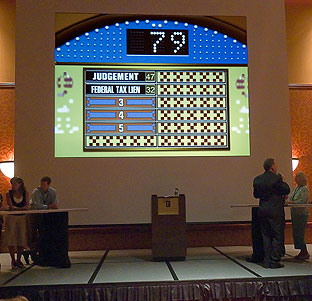 "Come on Down!" – Custom Game Shows
Come on Down is a high-energy, computer-based program that brings a custom game show directly to you!  Family Feud, Hollywood Game Night, Jeopardy and more! This program provides your group with a fun, educational and challenging event.  Based on some of your favorite and most popular game shows, our computerized game shows provide a great learning experience or just plain fun! Each game can be customized to your specifications using questions and answers provided by you. Let us bring the live game show to you! Company Karaoke

There's nothing more fun than a sing-along at a party and Company Karaoke was designed with that in mind.   Imagine your team creating a memorable song, based on company knowledge or your chosen guidelines and performing it for your group.  Teams will have the opportunity to write their song (using well known songs as a guideline and simply changing the words), choose costumes and perform.  The event ends with opportunity to view each team's performance and a Grammy Awards Show.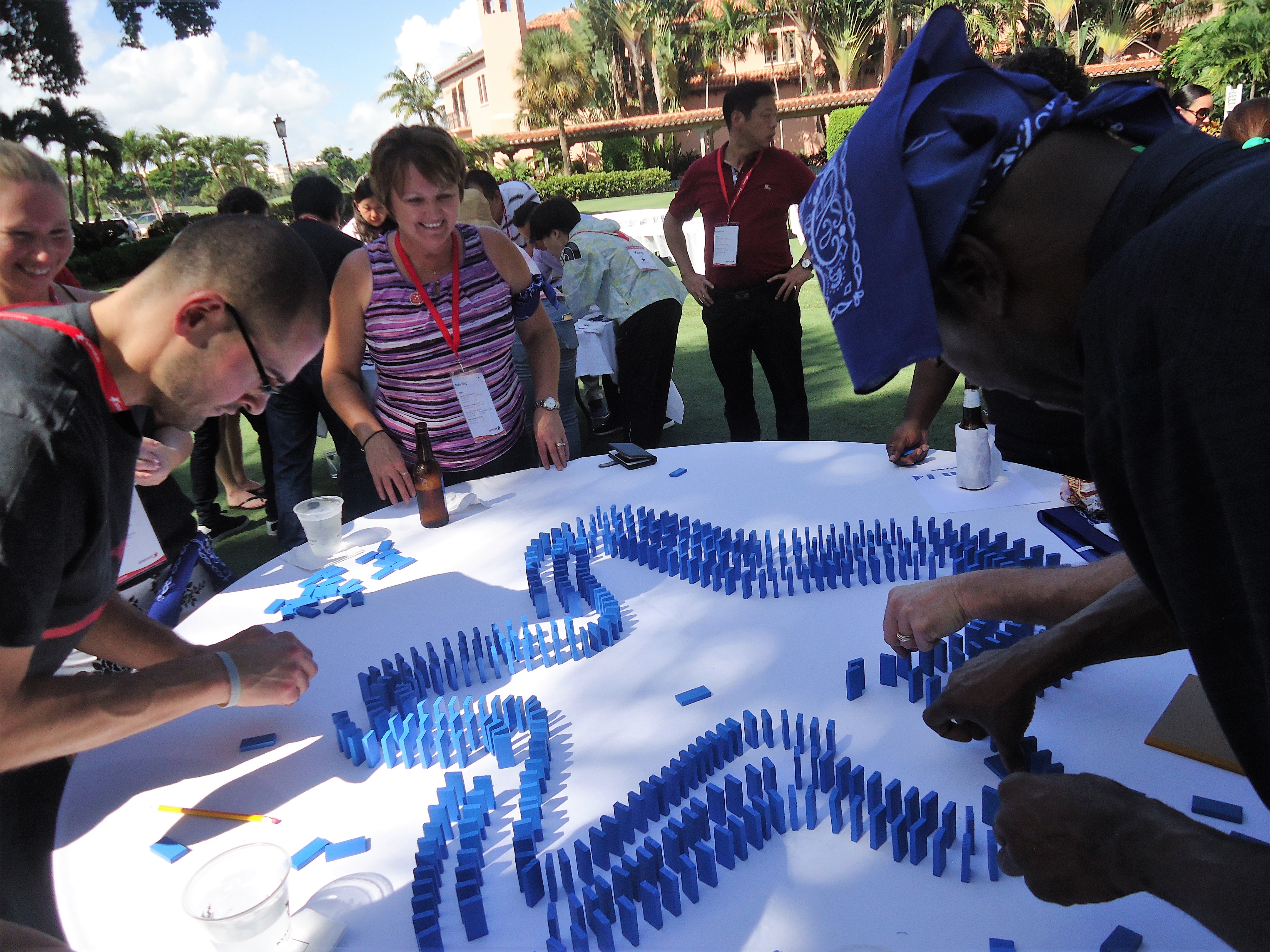 Domino Effect
The Domino Effect simulates teams working together in a high-pressure environment. Competing groups need to strike a balance between competitive flair and risk management.
Teams spend time designing a display of toppling dominos. Once the design has been completed, each team is assigned an area in which they must build their exhibit. Teams work together to create a stunt or pattern within their designated area. When the time is up, the event will conclude with a dramatic display – as the first domino is toppled and (hopefully) the rest all follow.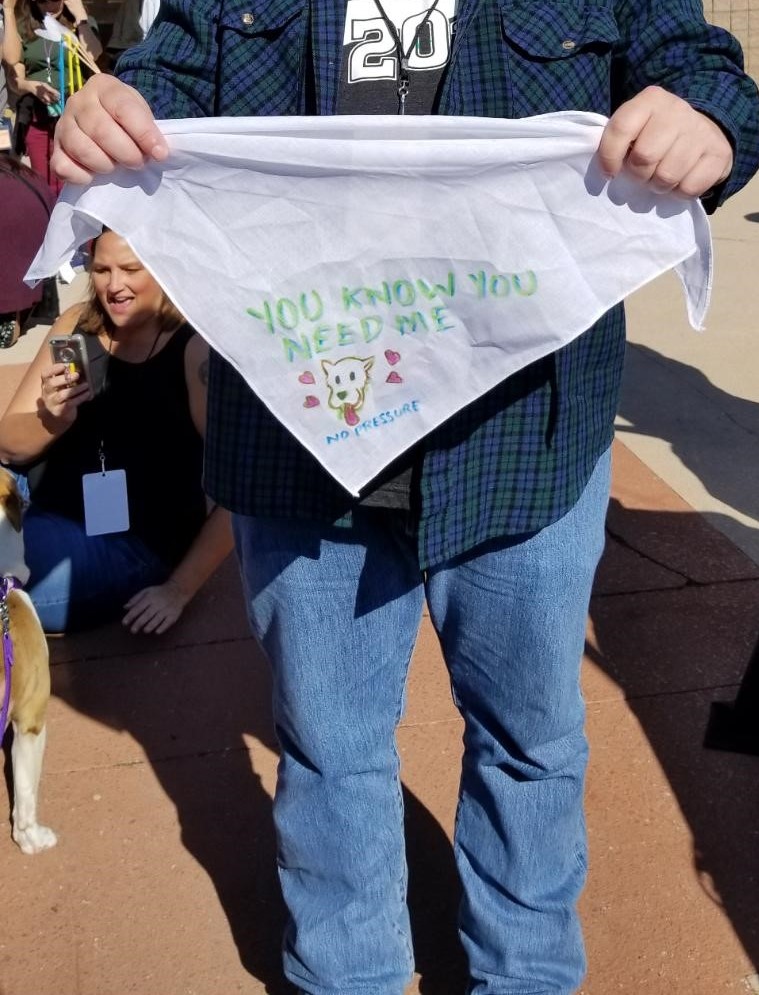 Dog Gone Fun!
This heartwarming and inspiring charity event encourages team unity and instills a great sense of accomplishment in creating beds, toys and more for animals waiting for their FUR-ever home.
We will work with your chosen to determine what is most needed. If time and venue permits, we may even be able to bring in some furry friends to keep your group entertained and on their toes.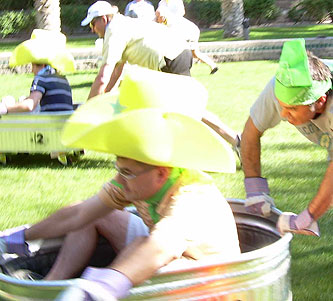 How the West Was Fun
This is the best darn Western celebration your group will ever have!  How the West Was Fun is full of cowboy skills, a rodeo that will lasso your feet and some good old-fashioned group entertainment.  Your group is divided into teams that compete in the Cowboy and Southwestern Skill Challenges.  Teams rotate through challenges and they earn points based on their performance and success.  Teams move on to the final Cowboy Competition and compete to be awarded the title of Best of the West and take home the coveted gold medal!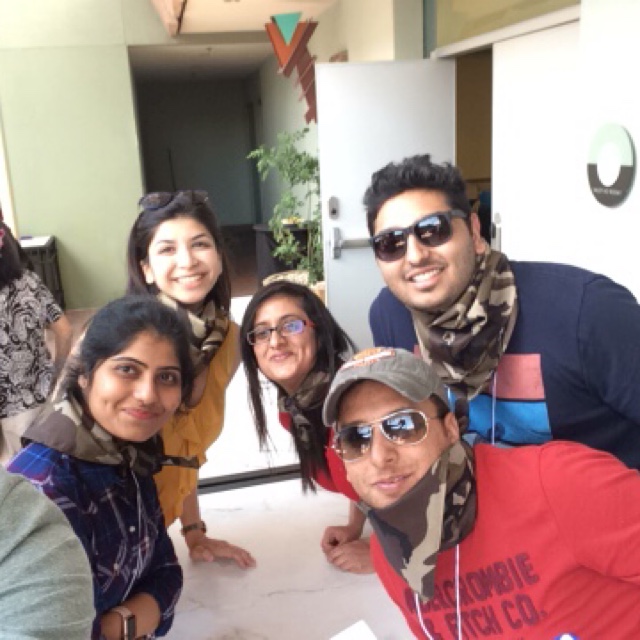 Ice Breakers
An Ice Breaker is an activity, game or event that is used to welcome and warm up the conversation among participants in a meeting, training class, team building session or another event. When participants don't know each other, these Ice Breakers will help them introduce themselves to the other participants. We have many fun events to choose from. Ice Breakers last from 30 – 90 minutes depending on your group size and location.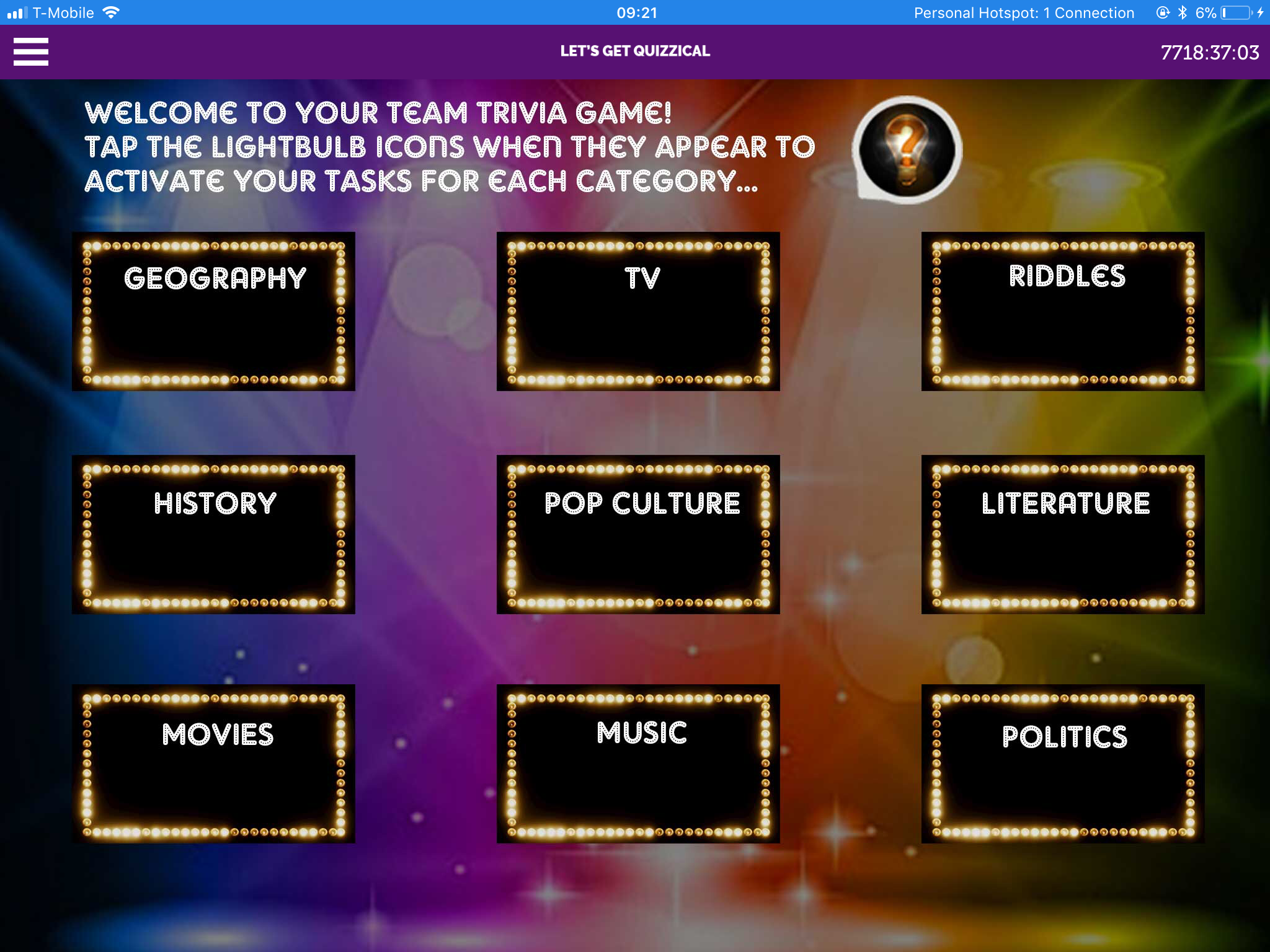 Let's Get Quizzical
The perfect addition to a team dinner, conference program or networking event!
This interactive team building activity will entertain and amuse your guests over dinner, within conference breakouts or within any indoor setting you desire. Using pre-set popular trivia categories or customized content, teams will activate questions and fun challenges using an interactive game screen.
Teams will answer questions, complete tasks and tap into their most creative side to complete photo and video challenges to earn valuable points.
A perfect icebreaker, conference breakout or over-dinner networking activity.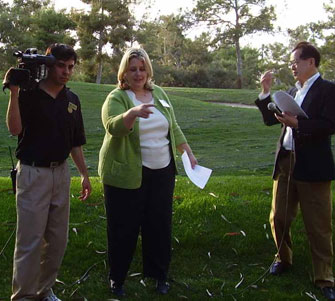 Lights, Camera, Action!
Everyone loves watching the commercials during the Super Bowl.  Now it's your turn to create a memorable commercial spot that will be filmed as though it were going to air on the day of the Big Game!  In Lights, Camera, Action!, teams will have the opportunity to write their script, scout out locations for filming and document a "behind the scenes" look at the writing, creating and planning of their commercial.
At the end of the day, everyone will have the opportunity to view a slide show documentary for each team, giving them a behind the scenes look at the making of each commercial, followed by the actual commercial. Movie Madness
Get ready to test your creativity with an event we call Movie Madness!  This fun and active team building event is ideal for any size group and can be done on or off property.  During Movie Madness, your teams create their own story based on a classic movie tagline.  Your team is challenged to write their own version of the movie and have fun with the costumes and props we have thrown in.
Movie Madness gives teams the chance to take loads of hilarious photos and try out a suitcase full of silly props and costumes!  This event that will tap into creative juices of your team while encouraging interaction and teamwork.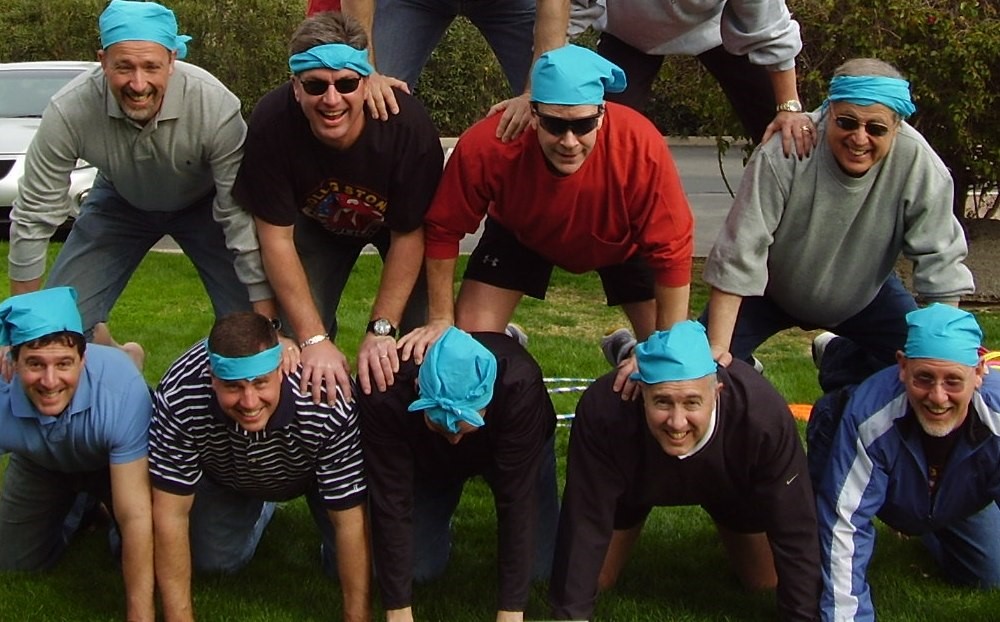 Olympic Supergames
Get the competition going with our high energy Olympic Supergames!  Teams go for the gold in this fun-filled event.  Get your group moving through a series of energetic games and relays designed to bring out the athlete in everyone!
We'll start with an opening ceremony including the Parade of Flags, with each flag representing one of your teams.  Next is the torch lighting ceremony, warm up and then "Let the games begin!"
Teams will rotate through a variety of events and will earn points based on their performance.  Points from all events will be tallied to determine the Gold, Silver and Bronze medalists.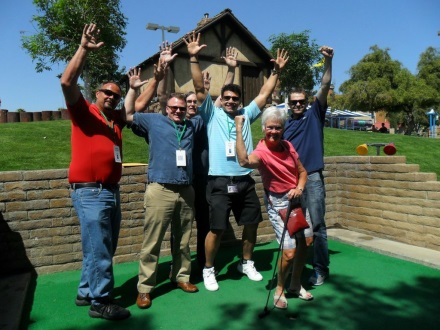 Picture This
This program is designed to send your group on a scavenger hunt with a digital camera followed by a creative presentation of their findings.  Your group will be divided into teams and will compete against one another.  Each of the teams will follow a set of clues that will take them to different locations.  Teams are required to take a picture of their team at each of the locations that the clues send them to.  The scavenger hunt for Picture This can be designed around resort properties, popular venues and locations, company products or meeting themes.
At the end of the race, each team will upload their pictures for the entire group to see and will tell the story of their adventures.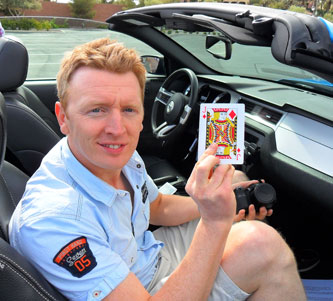 Road Run/Poker Rally
Hot Rods, poker and sightseeing…what a great adventure! Your teams will start at a designated location of your choice and will begin their journey to see the sights and have some fun. Armed with a map, digital camera and a list of locations to visit, your teams will participate in a Road Rally/Poker Run.
What is a poker run? A poker run is an event where participants must visit various checkpoints, drawing a playing card at each one. The object is to have the best poker hand at the end of the run. What better way to see the sights?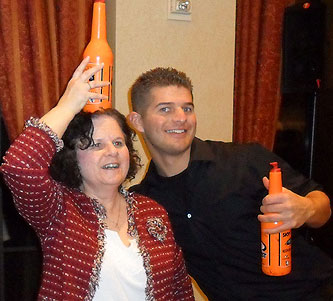 Shaken Not Stirred

Cocktails reflect the mood of the society, the trends of the time. From the 1920s to the disco era, cocktails have been markers for what society was doing and feeling at the time.
Your group will learn some of the fundamentals of bartending, have their bartending knowledge challenged, learn a flair trick (or two) and then create their own signature cocktail.
Guests get the chance to learn from our local Mixologist. Learning techniques with a splash, guests create the newest drinks and are judged based on content, taste and presentation. This fun activity will jump start your night and, who knows, you may find a new career after attending our stylish, moody, Mixology mayhem.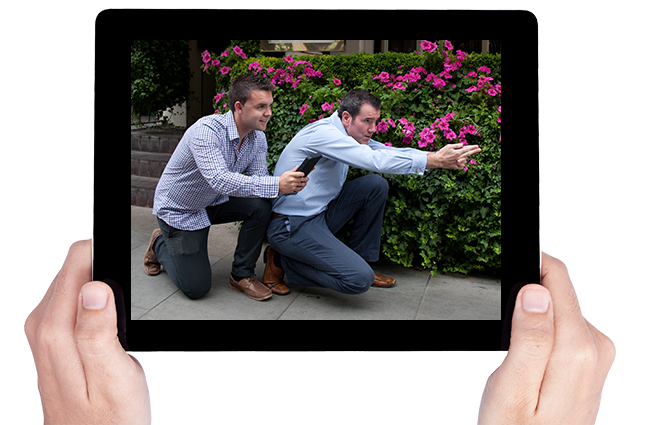 Spy School
Cryptic messages, secret codes and covert missions – all features of the exciting Spy School Adventure.
Tasked with several challenges, teams will need to channel their inner spy to succeed and reign supreme. Using the most advanced technology in the event industry, each team, armed with our app as their guide, will undertake a journey of espionage around your chosen location and complete a range of spy inspired tasks, challenges and questions. An eye for detail, an excellent memory and a competitive streak is what's required of you and your fellow spies for this fun, competitive spy-themed team activity.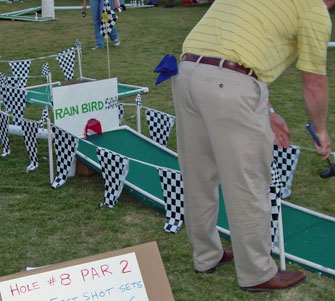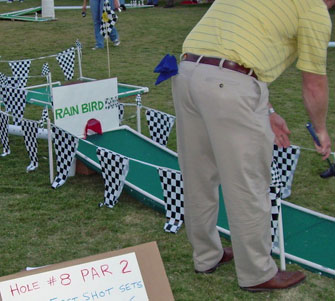 Tee Time
This is not your everyday Putt-Putt course!  Participants in Tee Time team up to design and create their own miniature golf hole using unique and original materials.  Each golf hole is designed and created by the team with a specific theme. You may even consider enhancing your sales meeting or convention using golf holes designed with your company theme, vendor's products, and more.
Feel the need to recycle? Ask us about Junkyard Golf. Virtual Escape Room
The question is simple; do you and your team have what it takes to escape? Based on the popular escape room challenges, this 60-minute activity combining tasks, riddles and puzzles will put your problem-solving skills to the test. Starting out in a 'locked office,' you are in the frame as an accessory to the perfect art heist. Participants must work together to complete a series of tasks and interactive challenges before they can 'escape'.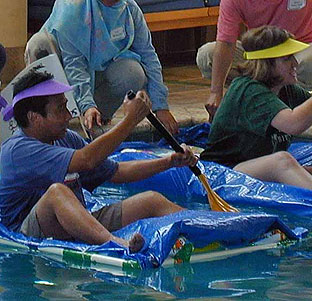 Whatever Floats Your Boat
This "titanic" challenge tests your teams in their boat building skills while they experience vision casting, teamwork, creative use of resources and friendly competition.  The teams have a limited amount of time in which they must design and build their boat and then the race is on for the championship!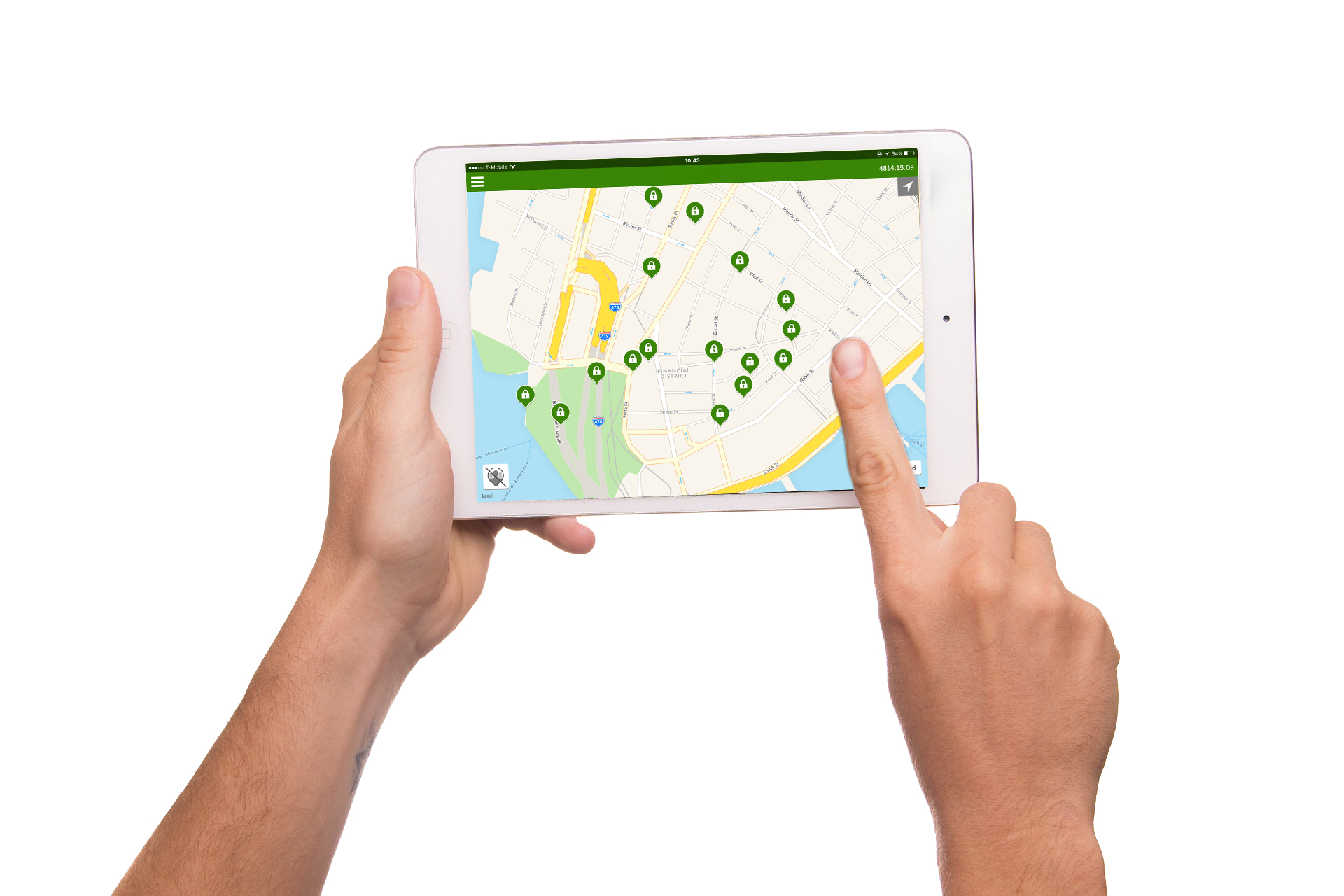 Wildgoose Chase
Test your knowledge and navigation skills and go high tech during our Wildgoose Chase! Each team will be required to have a mobile device for this event.  Teams will unlock clues and be presented with a number of challenges to include:
Photo Challenges
Video Challenges
Trivia Challenges
Q & A (customized with your company info)
Image Recognition and more
A live score board and statistics page will keep your teams motivate to solve all of the clues and return to the finish line as the winners. Our Game Master will review the photos and videos as they come in and give the teams' points on correctly following directions, creativity, humor and more.