PROBLEM-SOLVING ACTIVITIES
We'll make problem solving fun. Choose one of our brain teasers and get your team thinking outside of the box.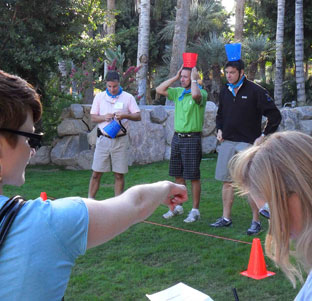 60 Seconds to Succeed
The clock is ticking!  Modeled after the popular game show "Minute to Win It," 60 Seconds to Succeed will have teams racing against the clock to see who can earn the most points in our wacky challenges.  Your group is bound to be laughing out loud at some of the crazy antics we have in store.
Each of our fast and fun team challenges is appropriate for groups of all ages and abilities.  Get ready to let loose and have some fun!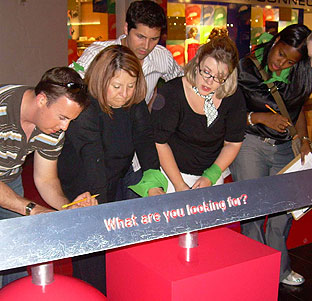 Amazing Race
The race is on as teams compete against each other to finish the Amazing Race! This is a fun teambuilding event combining communication skills, planning, strategy, teamwork and a race against the clock. Each team challenge has been developed to improve a team's problem solving, planning, leadership, communication and negotiation and teamwork skills, further building the team spirit.
Who will cross the finish line first in the Amazing Race? Around the World
A unique, interactive challenge which allows you to travel the world without ever leaving the indoor location of your choice.
A perfect indoor team building activity which allows you to work your way around the globe from your chosen location. Armed with our interactive app as your passport and guide, it's down to you and your globe-trotting teammates to virtually visit a number of countries and activate the 'hot spots' in order to complete a range of local, national and international challenges to earn points.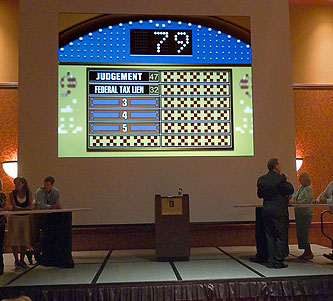 "Come on Down!" – Custom Game Shows
show directly to you!  Family Feud, Hollywood Game Night, Jeopardy and more! This program provides your group with a fun, educational and challenging event.  Based on some of your favorite and most popular game shows, our computerized game shows provide a great learning experience or just plain fun! Each game can be customized to your specifications using questions and answers provided by you. Let us bring the live game show to you!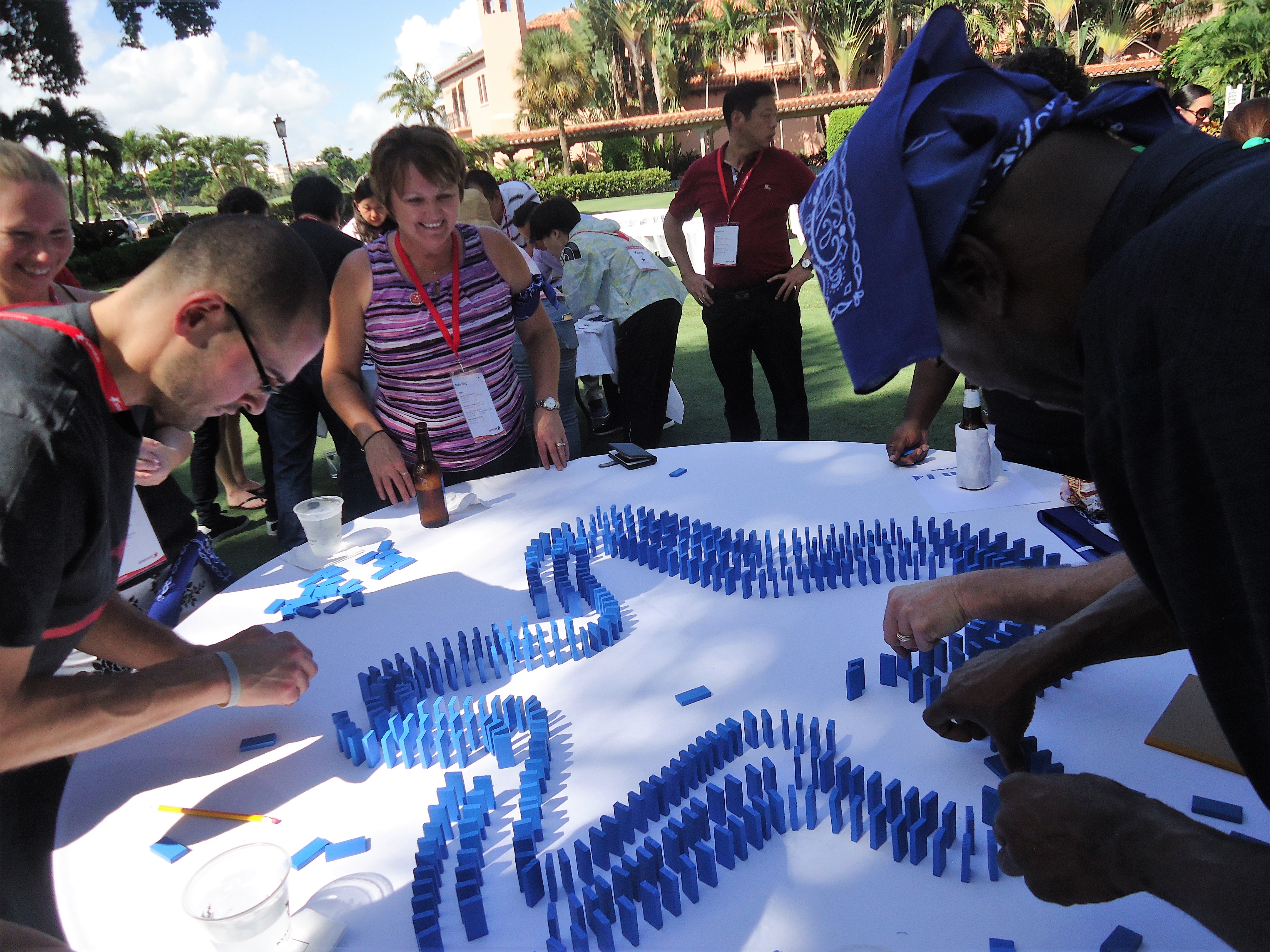 Domino Effect
The Domino Effect simulates teams working together in a high-pressure environment. Competing groups need to strike a balance between competitive flair and risk management.
Teams spend time designing a display of toppling dominos. Once the design has been completed, each team is assigned an area in which they must build their exhibit. Teams work together to create a stunt or pattern within their designated area. When the time is up, the event will conclude with a dramatic display – as the first domino is toppled and (hopefully) the rest all follow.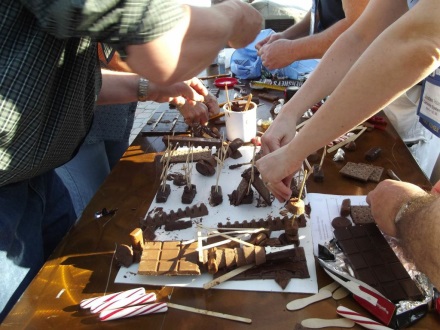 Great Chocolate Challenge
In the Great Chocolate Challenge team building event your group becomes confectionary constructors as they build a bridge made purely from candy.  Every activity during this event is built around candy!
Your group will be divided into construction teams and given a team packet outlining their objectives.  Each team will compete in a variety of challenges to earn credit in the Candy Store which is stocked with more sweets than you can imagine. Once all challenges have been completed the teams will set about designing and constructing a bridge made entirely from sweet treats.  It will take careful planning and teamwork to not only complete the bridge to the desired specifications but to also make it aesthetically pleasing and sturdy enough to handle the final challenge.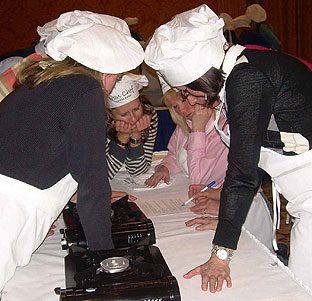 Iron Chef
Teams must make the most of their culinary and creative knowledge, stretching their limited resources to the max.  Teams can also gain much needed ingredients and equipment by winning it in competitive challenges. Teams must adapt, improvise and harness all of their creative thinking to finish their tasks in the time allotted, capture the judge's taste buds and win the title of Iron Chef Champions!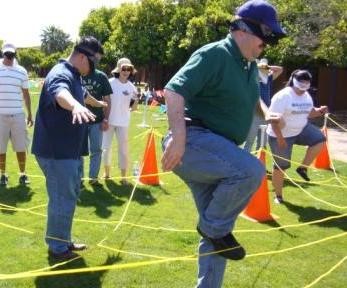 Mission Possible

Nothing is IMPOSSIBLE and your group of secret agents are out to prove it!  Your group will be divided into teams and given a variety of challenging missions to complete.
Defuse a bomb, cross an acid river, pass through an electric fence, all while under intense time pressure.  Successful completion of each mission earns each team points and brings the team closer to the goal of defusing the final bomb. Challenges in Mission Possible unite successful teams with trust, quick yet wise decisions, excellent communication and prepares them for the final mission. Do your teams have what it takes?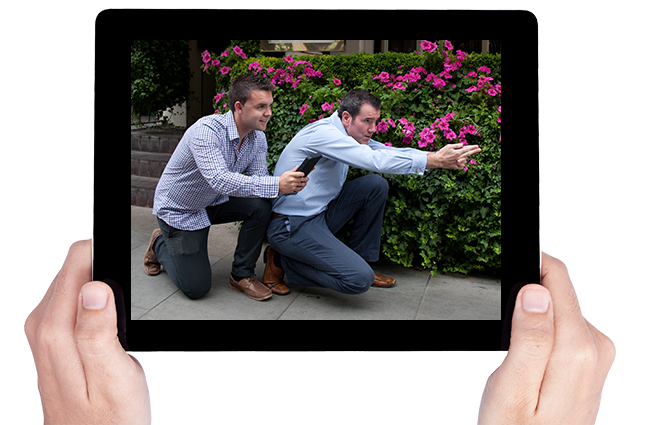 Spy School
Cryptic messages, secret codes and covert missions – all features of the exciting Spy School Adventure.
Tasked with several challenges, teams will need to channel their inner spy to succeed and reign supreme. Using the most advanced technology in the event industry, each team, armed with our app as their guide, will undertake a journey of espionage around your chosen location and complete a range of spy inspired tasks, challenges and questions. An eye for detail, an excellent memory and a competitive streak is what's required of you and your fellow spies for this fun, competitive spy-themed team activity.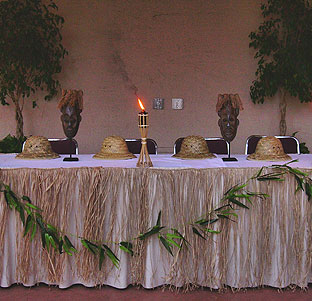 Survivor Challenge
Which team will advance to the final Survivor Challenge?  No team will get voted off of this island. The goal is to unite your team through creative and fun team building exercises designed to bring out the survivor in everyone. This fun, upbeat and full of energy program is guaranteed to bring out the natives in your group.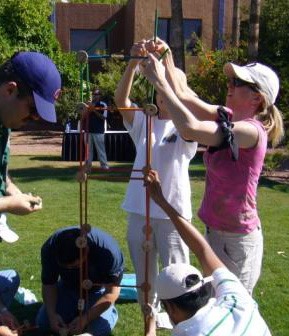 Take it to the Eggstreme
When you Take it to the Eggstreme, your teams will learn how to keep the customer (an egg) as their primary focus.  The goal is to unite the team through a creative and fun team building exercise where team members work together to achieve a common goal.  The better teamwork and communication that we have to the internal customer and each other, the better our message is to the external customer.
Teams will design and build a free standing structure with a variety of supplies available to them.  The goal is to drop a raw egg from a substantial height without human assistance, and keep it from breaking.
We will throw in some team challenges to get teams warmed up and ready for the final event – to see who can keep their "customer" safe, happy and whole.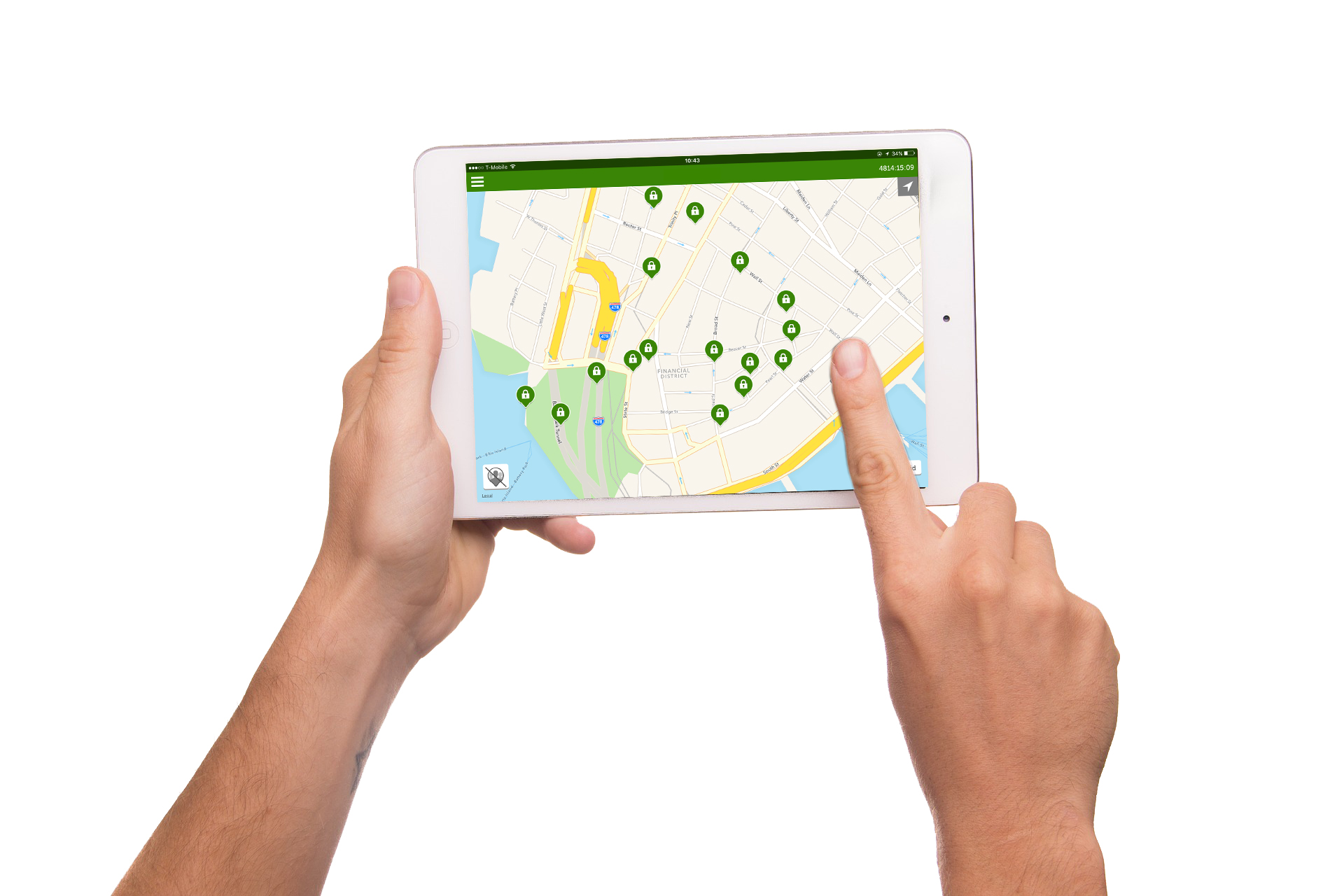 Virtual Escape Room
The question is simple; do you and your team have what it takes to escape? Based on the popular escape room challenges, this 60-minute activity combining tasks, riddles and puzzles will put your problem-solving skills to the test. Starting out in a 'locked office,' you are in the frame as an accessory to the perfect art heist. Participants must work together to complete a series of tasks and interactive challenges before they can 'escape'.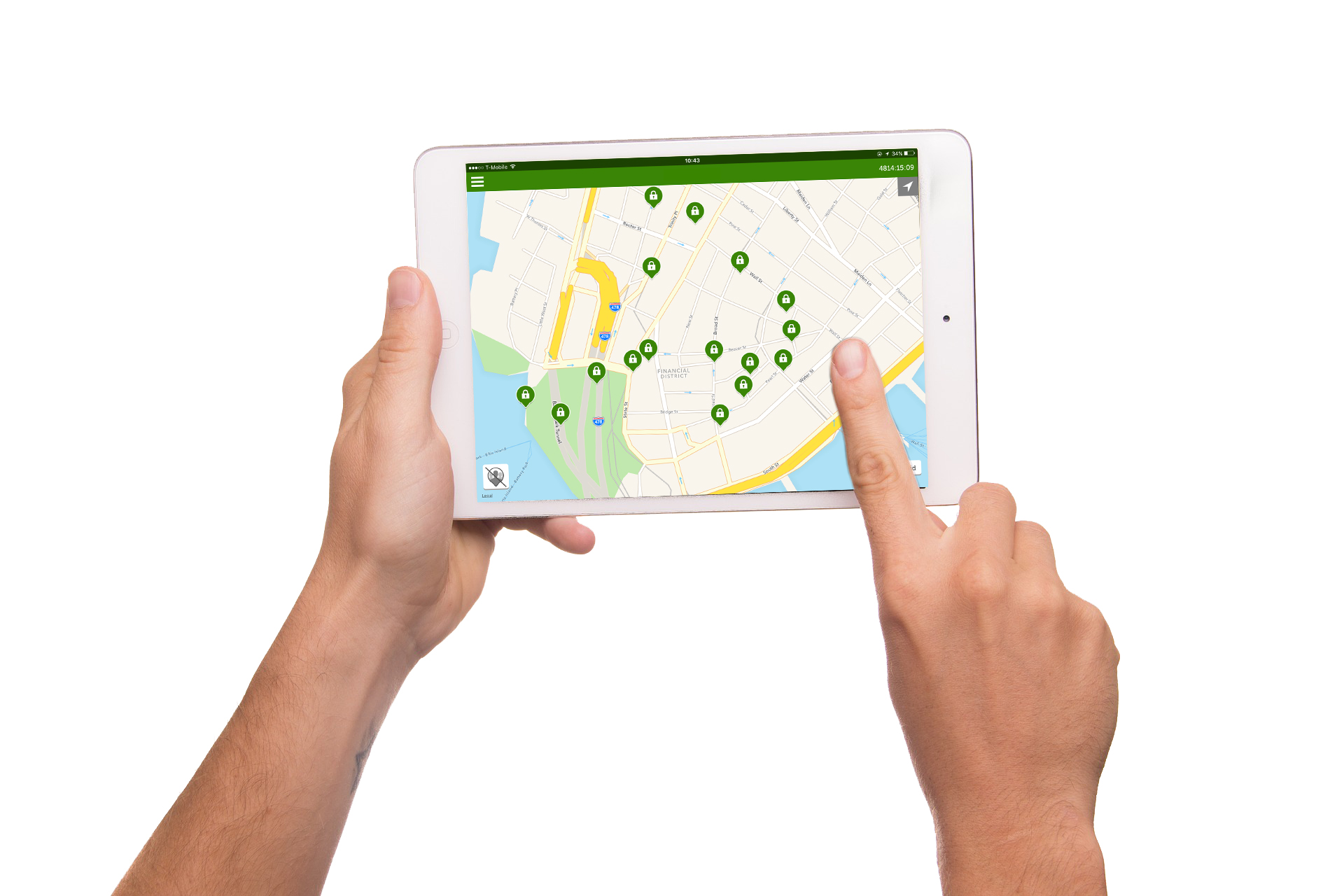 Wildgoose Chase
Test your knowledge and navigation skills and go high tech during our Wildgoose Chase! Each team will be required to have a mobile device for this event.  Teams will unlock clues and be presented with a number of challenges to include:
Photo Challenges
Video Challenges
Trivia Challenges
Q & A (customized with your company info)
Image Recognition and more
A live score board and statistics page will keep your teams motivate to solve all of the clues and return to the finish line as the winners. Our Game Master will review the photos and videos as they come in and give the teams' points on correctly following directions, creativity, humor and more.