If you build it they will come!  Choose from one of our constructive construction events.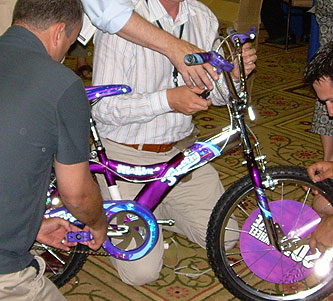 Build-a-Bike
Imagine your team participating in a fun and challenging event with the outcome of your hard work going to charity? The Build-A-Bike challenge tests your team's ability to work together to build a bicycle within the time allotted. Split your team up so you can divide and conquer.  No two bikes are alike! Your teams will compete to see who gets first pick of which bike to build. We will also throw some fun and interactive challenges to earn more points. This is an awesome give back event with an inspiring outcome.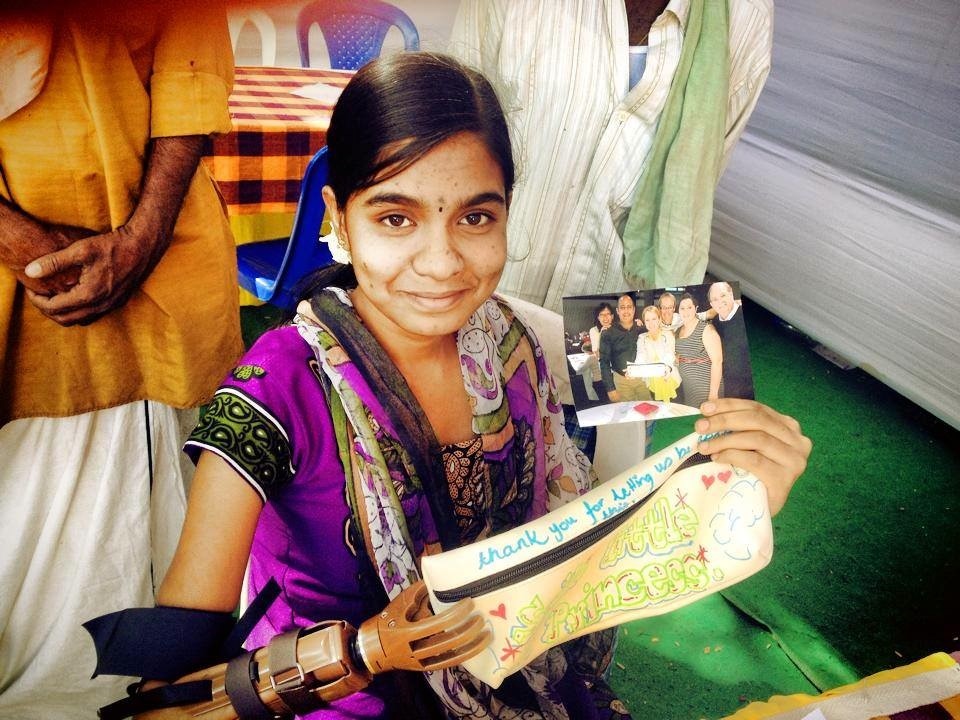 Build-a-Hand
The Build-A-Hand teambuilding program is a radical re-examination of what work is and why we do it. The power of a team comes from purpose, not from the blind repetition of a process. The Build-a-Hand teambuilding program re-connects team members with the purpose of their work and unlocks the potential of awareness, caring and collaboration in the workplace.
Each team of 2 – 3 people will build a prosthetic hands that will be shipped to amputees in developing countries.  Teams will assemble the hands and decorate a hand-carrying case.
Your decision to participate in this team building event will make a significant impact on many lives. Team members will walk away with powerful lessons to improve results, relationships and processes — and they will walk away proud of themselves, your organization and each other.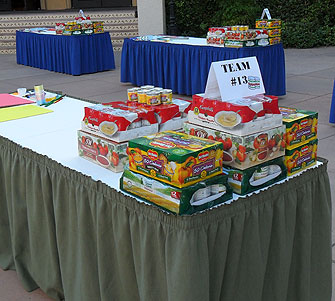 Can Do!
This program will test your group's creative and artistic side, as well as the opportunity to donate much needed items to a local food bank or shelter.  In the Can Do! challenge each team will be given a large number of no perishable food items in a wide variety of sizes that they must use to build a famous building, landmark or something easily identifiable. Be creative!  Judges will be looking for the best use of materials, most creative design and most easily recognizable structure.  Everyone will leave this event with a Can Do! attitude!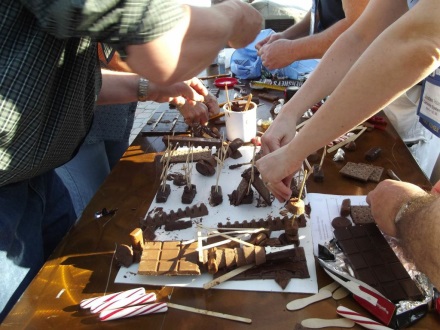 Great Chocolate Challenge
In the Great Chocolate Challenge team building event your group becomes confectionary constructors as they build a bridge made purely from candy.  Every activity during this event is built around candy!
Your group will be divided into construction teams and given a team packet outlining their objectives.  Each team will compete in a variety of challenges to earn credit in the Candy Store which is stocked with more sweets than you can imagine. Once all challenges have been completed the teams will set about designing and constructing a bridge made entirely from sweet treats.  It will take careful planning and teamwork to not only complete the bridge to the desired specifications but to also make it aesthetically pleasing and sturdy enough to handle the final challenge.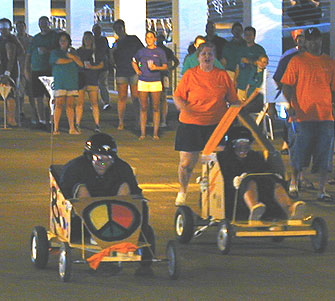 Race for the Checkered Flag
Strap on your helmet, put on your racing gloves and lower your goggles.  Ready, set, GO!  Enhance your team's problem solving skills as they design, build and race their very own soap box racer. In this event your teams will design, build and race their cars.  The activities involved will enhance problem solving skills in a fun, challenging environment.
Each team is provided with a blank blueprint to design their car.  Teams are provided tires, axles, lumber and the tools to build the car. After the construction is complete the cars will race.  Scoring is based on a combination of the car races and participation in the Pit Crew relays.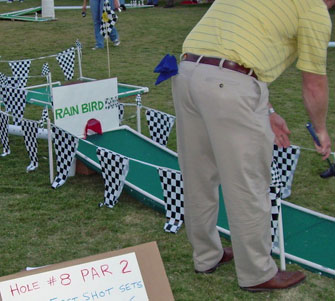 Tee Time
This is not your everyday Putt-Putt course!  Participants in Tee Time team up to design and create their own miniature golf hole using unique and original materials.  Each golf hole is designed and created by the team with a specific theme. You may even consider enhancing your sales meeting or convention using golf holes designed with your company theme, vendor's products, and more.
Feel the need to recycle? Ask us about Junkyard Golf.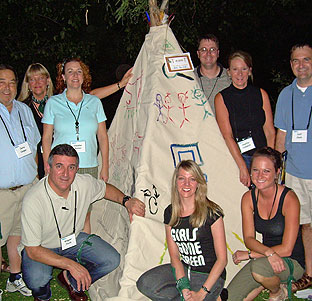 Teepee Storytelling
The Teepee Storytelling program has been designed to be a fun interactive team experience where the teams can blend their cultures into a unified message.  The main objectives of this program are to foster camaraderie and build team spirit.
The American Indian Tee Pee covers were embellished with both realistic and geometrical paintings that told of great legends, hunts and dreams.  The group will build and design a tee pee that will tell the team's story.  The Tee Pee panels will tell the story of the Company's Past, Company's Present, Company's Vision and Individual Team Members' Strengths.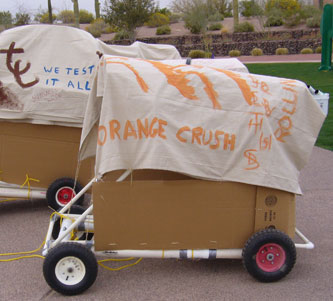 Wagons Ho!
Pull up your bootstraps, load up your gear and great ready to brave the Wild West!  Enhance your team's problem-solving skills as they design, build and race (with their driver inside) their own covered wagon in our fun event called Wagons Ho!
Get your group geared up for success with this event.  Teams become "families" who are setting out to be Trail Blazers in the Wild West.  So get those doggies rollin' and become a TRAIL BLAZER!  Wagons Ho!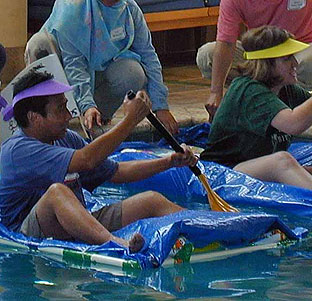 Whatever Floats Your Boat
This "titanic" challenge tests your teams in their boat building skills while they experience vision casting, teamwork, creative use of resources and friendly competition.  The teams have a limited amount of time in which they must design and build their boat and then the race is on for the championship!